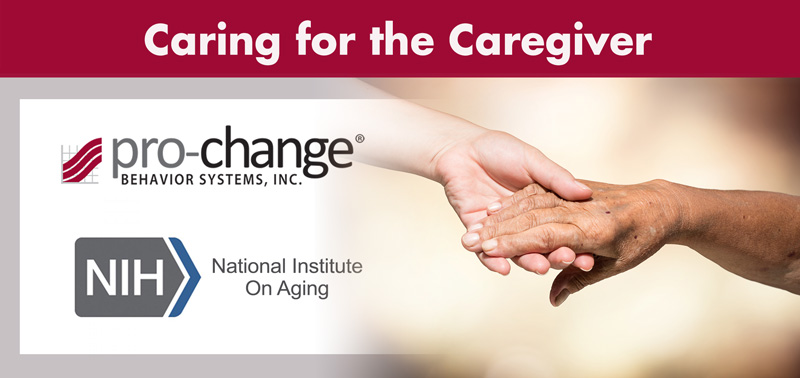 In the words of Rosalyn Carter,
"Caregiving is universal. There are only four kinds of people in the world: those who have been caregivers, those who currently are caregivers, those who will be caregivers, and those who will need caregivers."
And what better time than during National Alzheimer's Disease Awareness Month and National Family Caregivers Month to announce that Pro-Change has been awarded a grant from the National Institute on Aging? With this funding, Pro-Change will develop and pilot test a mobile intervention designed to improve well-being among individuals who provide unpaid care to a family member or friend diagnosed with Alzheimer's disease or a related dementia.
While caregiving can be a positive experience that brings meaning and an increased sense of purpose, it can also lead to the caregiver feeling overwhelmed. Caregiver distress is associated with adverse health outcomes for the caregiver and poorer quality care for the care recipient. As the number of older Americans increases, so will the need for informal caregivers.
Led by Dr. Deborah Levesque, Chief Science Officer, Pro-Change will employ a design-for-dissemination approach to the development of Connect2Care, a text-messaging based intervention for Alzheimer's caregivers. Connect2Care will be designed to promote the caregivers' use of healthy strategies to manage emotional distress. Dr. Levesque's team has already begun working to collect extensive end-user, expert consultant, and key stakeholder input to ensure that the program is responsive to the needs of end users and incorporates best practices for program engagement and retention. The project will culminate with a pilot test including 50 caregivers who will use the program and provide feedback to refine and further the development of the intervention.
"The Pro-Change team is thrilled to be working in this very important area." said Dr. Kerry Evers, Co-President and CEO. "Our goal is to be able to provide a very brief but impactful program to help care for the caregiver."
This research is funded by grant #R43AG060784 from the National Institute on Aging.