South Kingstown, RI – January 13, 2014. A study in the December 2013 issue of the peer-reviewed journal, Population Health Management, provides a demonstration of how published intervention outcomes can be used to create benchmarks for wellness programs for comparison. The results can then be applied by decision makers to adapt and evaluate the effectiveness of real-world wellness programs.
This study assessed outcomes from Transtheoretical Model of Behavior Change (TTM) computer-tailored interventions (CTIs) on six behaviors. Results were compared with 26 arms of a series of TTM randomized controlled trials (RTCs) and a national Task Force for Community Preventive Services (CHES) review of 59 workplace wellness interventions
(RCTs and case studies).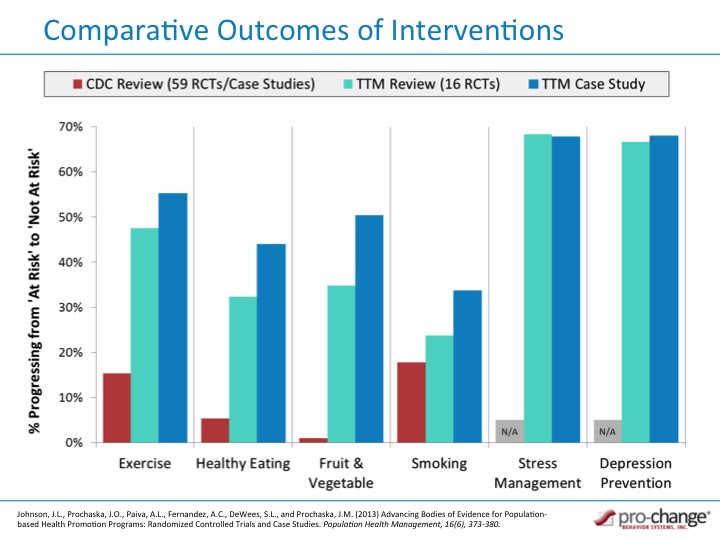 Comparing results across the two sets of benchmarks demonstrated a consistent pattern in which the TTM interventions and QHS' support, targeted communications and health coaching services produced greater impacts ranging from 33% higher rates for smoking, two times greater for exercise, five times for healthy eating, and about 45% success for fruit and vegetables compared to essentially 0%. Results for Stress Management and Depression Prevention from TTM RCTs were also included to begin to build benchmarks for these important behaviors. Of special importance is that contrary to expectations, benchmarking from a real-world case study done with Quality Health Solutions, Inc. produced results that outperformed those from our RCTs on four behaviors and tied on the other two. Decision makers can use the benchmarks to assess whether their current programs, and new ones they are considering, are likely to be closer to average performing programs or higher performing programs.
For view the abstract, please visit www.online.liebertpub.com. Advancing Bodies of Evidence for Population-based Health Promotion Programs: Randomized Controlled Trials and Case Studies by Johnson et al. in Population Health Management, Volume 16(6), 373-380.
About Quality Health Solutions, Inc.
Founded in 2001 by company President and CEO Brian J. Thomas, QHS was formed through a collaborative partnership with Pro-Change Behavior Systems, Inc. and James O. Prochaska, PhD., the lead developer of the Transtheoretical Model of Behavior Change (the "Stage of Change" model).
QHS' mission is to encourage personal responsibility for health and well being. QHS helps its employer group clients and benefit broker partners design and implement total population health management services that assist employees and their families discover motivation and confidence, overcome challenges, and resources to achieve positive, healthy changes.
To learn more about QHS award winning wellness programs, please visit www.my-qhs.com.