Kerry Evers, Ph.D., Senior Vice President of Research and Development, has been named one of the state's top business people in the annual "40 Under Forty" feature in Providence Business News (PBN). Kerry is one of 40 young professionals (business and nonprofit leaders) chosen from more than 115 nominees, based on career success and community involvement. PBN seeks the best and the brightest in the state of Rhode Island who have made a commitment to making a difference on a local, national, or international scale.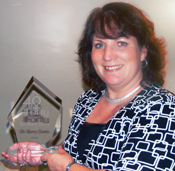 Kerry started her work at Pro-Change by obtaining Pro-Change's first Small Business Innovative Research funding in 1998, and has continued to work with some of Pro-Change's largest and longest term partnerships. She has led and played an integral part in research and product development for behaviors ranging from stress management and bullying prevention; the use of the Internet in affecting health behavior change, proactive health consumerism, and well-being; to text messaging for smoking cessation and programs for veterans with mild to moderate PTSD. "Kerry's strong leadership and willingness to take risks has brought new technologies and cutting edge innovations to Pro-Change" stated Janice M. Prochaska, President & CEO. "Kerry is one of the original founders who helped launch Pro-Change in 1997 and continues to help Pro-Change thrive."
Kerry's reputation has grown throughout the behavioral-science field. She has written roughly 40 published works and has had speaking engagements at nearly 100 conferences in more than 10 countries. She is an Associate Editor for the American Journal of Health Promotion, and adjunct faculty at the University of Rhode Island. In 2009, she was one of 20 experts to participate in the "Forum on the Future Impact of Neuroscience and Behavior Change." She is often asked to review for grant funding agencies and journals, and serves as the Chair of the Multiple Behavior Change Special Interest Group for the Society of Behavioral Medicine as well as a track chair for a variety of conferences.
Kerry's work has also been recognized by military leaders. In 2008, Evers was selected by the U.S. Office of the Secretary of Defense as one of 50 leaders from across the nation to participate in the 76th Joint Civilian Orientation Conference. In 2009 she was invited to attend the 56th Annual National Security Forum at the Air War College.
Kerry is equally as dedicated to influencing change in the community. She is on the Board of Directors for South Kingstown CARES, a nonprofit volunteer organization that supports the town's school district. She has also worked with the Leukemia and Lymphoma Society, the American Cancer Society, and several other local nonprofit organizations. Evers, a 3rd degree Black Belt in Okinawan Karate, also assists with teaching and programs at her karate studio.
About Providence Business News
Providence Business News, nicknamed PBN, is a weekly business newspaper focusing on the economy in Rhode Island and Bristol County, Massachusetts. For information about PBN, please visit www.pbn.com.