ProChange Behavior Solutions recently deployed its latest custom behavior change app for chronic condition management! In collaboration with the Lupus Foundation of America, ProChange is proud to announce the launch of a cross-platform app for the Strategies to Embrace Living with Lupus Fearlessly (SELF) program. The SELF program is designed to help people living with lupus better manage symptoms, stress, and medications and work with their health care team. The SELF mobile app makes the program's key features, including symptom and medication trackers, a journal, and a library of skill-building activities, even more accessible and easy to use on the go.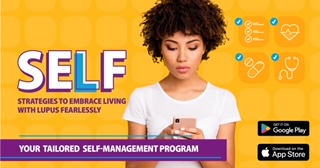 Similar to the SELF program, the SELF app for chronic condition management is designed for people at any point on their lupus journey, including newly diagnosed individuals who need help navigating this complex disease, people with lupus who want to feel more in control of their disease, and people with lupus who feel they manage their disease well but want a little help dealing with some of the ups and downs of lupus.
The SELF app is free and available to people living with lupus in the United States who are 18 and older. It was developed with support from the Centers for Disease Control and Prevention and AstraZeneca. The app is now available for download via Google Play and the Apple App Store. Learn more about SELF and how to participate at Lupus.org/SELF.
We are grateful to the Lupus Foundation of America for their continued partnership. With their support, ProChange has implemented best practices in behavior change science into this app for chronic condition management to improve the lives of people living with lupus.
– Dr. Sara S. Johnson,Co-President & CEO