Empowering people to experience life-changing breakthroughs
ProChange is committed to empowering individuals to experience life-changing breakthroughs that deliver real-life improvements in health and well-being. This commitment to change, health and well-being, and our guiding principles are represented in our recently redesigned logo.
At our core, ProChange is focused on the exploration of change, which is represented by the triangle in the center of the logo. The triangle is the Greek letter Delta, which is the symbol for change.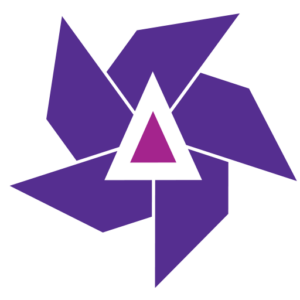 The only constant in life is change.
– Heraclitus
Surrounding the Delta triangle is a pinwheel. In many cultures, the pinwheel is seen as an instrument to turn obstacles into opportunities and is believed to grant longevity, health, and prosperity to its owner. Similarly, ProChange's solutions offer our clients the tools to assist their population in overcoming challenges and increasing their well-being.
The five points of the logo symbolize the five stages of change that are at the core of the Transtheoretical Model. This theoretical model was developed by ProChange's founder, James Prochaska, Ph.D., and is utilized in many of our solutions. The number 5 is also often viewed as the master of change in numerology, another reference to our core mission.
Finally, purple was selected as the primary color in our logo for a variety of reasons. As an equal combination of two primary colors, it represents balance that is often seen as welcoming to multiple schools of thought. Philosophers gravitate toward the color purple as it reminds them that there are many unknowns and differing perspectives to be explored. In the initial conceptualization of the Transtheoretical Model, the developers sought to examine a variety of theories and perspectives on change to find commonalities. Purple encourages self-knowledge, inspires reflection and self-awareness, and is associated with transformation and motivation.
As ProChange looks forward to our next 25 years, we are proud that our logo reflects our commitment to helping people and organizations change for good.