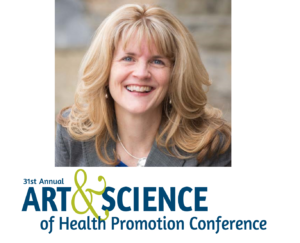 Pro-Change Behavior Systems is pleased to announce that their Co-President & CEO, Dr. Sara Johnson, has been appointed Chair of the Art and Science of Health Promotion Conference. In her capacity as Chair, Dr. Johnson will be responsible for the educational content of the conference and serve as Master of Ceremonies, beginning with the 2021 conference. 
The purpose of the Art & Science of Health Promotion Conference is to maximize the effectiveness of health promotion in the U.S. and globally through the application of lessons learned from rigorous research and practice. The conference has a thirty-year legacy of presenting scientific expertise and practical experience on the science of lifestyle change. Last year, they joined forces with The International Foundation of Employee Benefit Plans, a premier educational organization with more than 32,000 members dedicated to improving employee benefits education. 
Dr. Johnson is succeeding Dr. Michael O'Donnell, who chaired the conference for 30 years. The 31st Art and Science of Health Promotion Conference will be held March 29-April 2, 2021 at the Broadmoor in Colorado Springs, CO. The conference theme relates to how health promotion will adapt to stem the rising tide of pervasive, daunting challenges facing society (e.g., the aftermath of the COVID-19 crisis; epidemics of loneliness; mental health and substance use disorders; unmet social needs; and chronic illnesses) in the context of our rapidly evolving and increasingly decentralized workforce.
Hope to see you there!